Company
ANEMOS doo was established in year 2000. The founders were owners of company NAOS srl from Trieste, Italy. Their idea was to increase own capacity and to develop job on other markets. Since than, ANEMOS doo has been present in various shipbuilding branches.
In 2008 ANEMOS doo was bought by 3 permanent employees and became 100% in Croatian ownership, but it is still a part of NAOS group and very tightly connected with NAOS srl.
Services
Designing of all types of sea-going vessels, steel constructions and steel structures. We cover various shipbuilding branches, but our speciality is hull design for steel and aluminium ships.
Besides design, we offer:
drawing approval
technical consultancy
advice about compliance with relevant rules and regulations
supervision
Through our associates, we are establishing business contacts with Shipowners, Yards, Workshops, Design offices, Shipping Agencies worldwide in order to improve our range of services.
Software
For our purposes we mostly use TRIDENT package which is set of specialised shipbuilding programs developed by company USCS doo, Pula, Croatia, as an integrated part of the PTC®CADDS®5i system. It is 3D CAD program which offers great possibilities in all shipbuilding branches. It is compatible with other most frequently used CAD programs. We use it mostly for:
creating and fairing of hull form,
naval calculations,
3D modelling of ship's structure,
weight calculation,
classification drawings,
and for all necessary drawings and documents for steel work (cutting and bending of plates and profiles, including nesting and files for numerical cutting, material specification, etc).
The piping, HVAC and electrical module are also available to support all phases of outfitting design process.
It is our key software, but we are familiar with many other CAD programs, so when it is required, we also use them (AUTOCAD,RHINO,...).
Key personnel
We are specially proud of our professional and good-experienced employees who are the most valuable part of the company. Beside our full time employees we use part time employees (contract basis) for executing ongoing projects.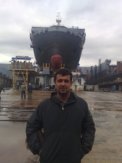 BOJAN VOJNOVIĆ
Position in the company: Manager
Education:
Graduated in 1995. as Naval Architect M. Sc. at Faculty of Mechanical Engineering and Naval Architecture at FESB University of Zagreb
Work experience:
1996-1998 started to work at BRODOSPLIT shipyard as assistant of manager in shipbuilding workshop with average yearly production of about 60.000 tons of prefabricated steel. During that time workshop made steel work for more than 10 ships (tankers, bulk carriers, ferry boats, frigo-vessels...)
1998-2008 worked at BRODOSPLIT shipyard in Construction and design division at Hull department, organising work at department regarding workshop drawings (with tasks to insure quality of drawings, to achieve demanded delivery dates, to coordinate with production...), for more than 35 newbuildings of various types. All that time worked at ANEMOS too, on contract basis.
2008-2010 continued to work full time at ANEMOS
gsm: 00385-91-5198005 | e-mail contact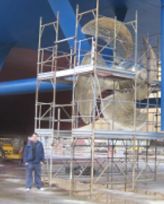 NIKŠA SIRIĆ
Position in the company: Chief designer
Education:
Graduated in 2005. as Naval Architect B. Sc. at Faculty of Electrical Engineering, Mechanical Engineering and Naval Architecture at FESB University of Split
Work experience:
2005-2007 started to work at BRODOSPLIT shipyard first as production engineer, and later as hull designer in Construction and design division, mainly occupied by developing of classification and workshop documentation for various cargo vessels
2008 – joined to Norway company POLARKONSULT, working on clasification drawings for heavy lifters, ferries, seismic vessel
2008-2009 continued to work full-time at ANEMOS
gsm:00385-98-9083569 | e@mail
Besides them, when necessary, we ask for additional help other persons who work at same quality level. At any given time we are able to mobilize respectable number of Designers, Technicians and Supervisors at short notice for executing the contracted work. Personnel is mobilized for the specific contract and duration.
As we are flexible in this respect, there are no overheads, thus keeping low running costs and competitive prices.
Previous work experience at Brodosplit shipyard
As mentioned in menu "Personnel", our employees achieved great part of their experience working at Brodosplit shipyard, so we are proud to mention that we, in some way, contributed on newbuildings from No.388 to No.467 (more detailed at Brodosplit's web page). Now, from time to time, we work as cooperation with Brodosplit shipyard.